A STUDY IN PATHOS: LITERATURE & FILM

It is no sign of a healthy mind to be well adjusted to this pathological society.
'This is the End' – 'Oedipus Rex' – Revelation Through Excess
Now, I know y'all are wanting to think that there is some grand, profound Meaning to all of this. But this is not the way it is. Actually we are all just making it up as we go.
You know I don't care which way the wind blows
Really doesn't matter to me
I see them running'round jumping up and falling down
Look a little closer you'll see.
A wink at the looser
A prize for the winner
And a dollar for the girl pulling down her knickers
A finger in the icing while the cake's still baking
It's cash on the line or it's just my time that you're wasting
I say go-go-go free your mind and let it go
Let your real nature come out
Don't tell me no-no-no that's too easy
Because that is how I live without a doubt
You know what you're here for
You'd sing it if you had the chance
The world is the music and life is the dance
~W.D.Whitten
Agatha Christie Young, Thirty-Something, Middle Age:
The Murder on the Orient Express


What Was the Inspiration for "The Murder on the Orient Express"?
Agatha Christie wrote her famous detective novel based on an even more famous kidnapping
In Agatha Christie's crime novel Murder on the Orient Express, the well-mustachioed Belgian detective Hercule Poirot solves the grisly stabbing of an American tycoon traveling on a long-distance passenger train. While the 1934 story, adapted for a new movie, of murder and revenge on a stuck, snowed-in train is of course a work of fiction, Christie pulled parts of her story straight from the headlines.
Read more: https://www.smithsonianmag.com/history/what-was-inspiration-murder-orient-express-180967305/#pe6DRivCY0mJu2z1.99
Murder on the Orient Express (1974 movie)


https://www.imdb.com/title/tt0071877/
From Wikipedia, the free encyclopedia
Jump to navigationJump to search
Ten Little Niggers may refer to:
Ten Little Indians, a modern children's rhyme, a major variant of which is Ten Little Niggers
And Then There Were None, a 1939 novel by Agatha Christie which has also been published as Ten Little Niggers and Ten Little Indians
And Then There Were None (play), a 1943 play by Agatha Christie adapting her novel, performed in the United Kingdom as Ten Little Niggers
And Then There Were None (1945 film), released in the UK as Ten Little Niggers
Desyat Negrityat (Ten Little Niggers, Russian: Десять негритят), released in 1987
* * * * * *
Gerontophobia
fear of growing old, or a hatred or fear of the elderly. The term comes from the Greek γέρων – gerōn, "old man" and φόβος – phobos, "fear".
Poirot S09E03 Death On The Nile 2004
Sherlock Holmes
Sherlock Holmes (/ˈʃɜːrlɒk ˈhoʊmz/) is a fictional private detective created by British author Sir Arthur Conan Doyle. Referring to himself as a "consulting detective" in the stories, Holmes is known for his proficiency with observation, forensic science, and logical reasoning that borders on the fantastic, which he employs when investigating cases for a wide variety of clients, including Scotland Yard.
First appearing in print in 1887 (in A Study in Scarlet), the character's popularity became widespread with the first series of short stories in The Strand Magazine, beginning with "A Scandal in Bohemia" in 1891; additional tales appeared from then until 1927, eventually totalling four novels and 56 short stories. All but one are set in the Victorian or Edwardian eras, between about 1880 and 1914. Most are narrated by the character of Holmes's friend and biographer Dr. Watson, who usually accompanies Holmes during his investigations and often shares quarters with him at the address of 221B Baker Street, London, where many of the stories begin.
A Study In Scarlet – Whole book in PDF:
https://www.gutenberg.org/files/244/244-h/244-h.htm
Sherlock Holmes in A Study in Scarlet 1968 (movie)
Sherlock Holmes' death is not mentioned anywhere in the original stories. Of course, he faked his death in The Final Problem as he fought Professor Moriarty at Reichenbach Falls in the northern Swiss Alps. (when he was 37 years old).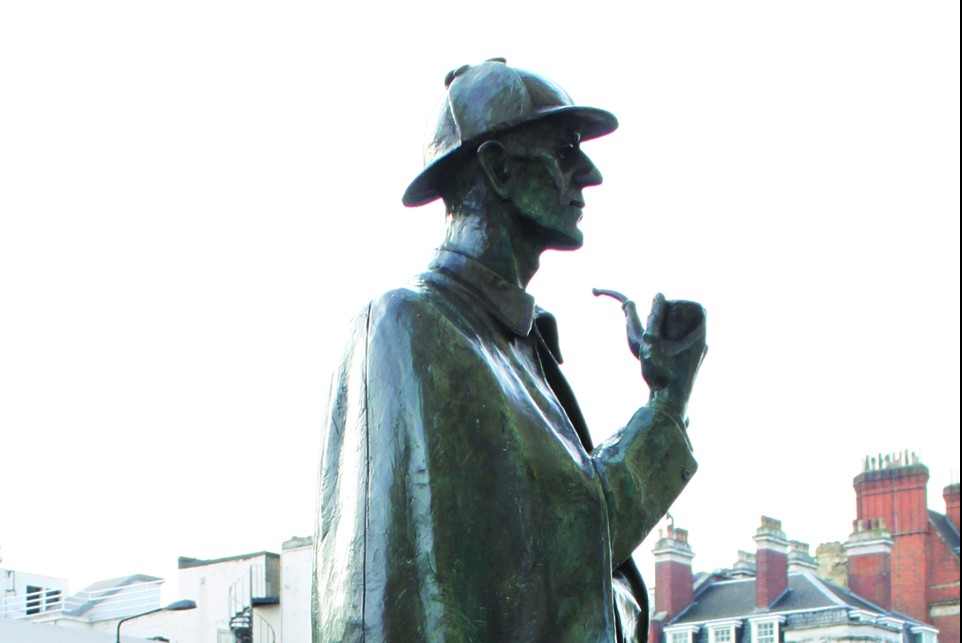 Conan Doyle never explicitly said why he decided to bring Sherlock Holmes back to life, but he was definitely pressured to do so by both the public and his publishers. So Conan Doyle brought back his creation for a reunion tour in a novel, The Hound of the Baskervilles, published in The Strand magazine between 1901-1902. This story, a sort of prequel, was set before Holmes had his unfortunate cliff diving accident, so there was no resurrection just yet.
This novel succeeded in getting everyone hyped up on Holmes once again, and Conan Doyle finally agreed to start publishing new Sherlock Holmes stories. So Holmes rose from the dead and a new series of short stories, collected in The Return of Sherlock Holmes, were published between 1903-1904 in The Strand magazine, which was thrilled to have it's cash cow detective back in print.
Interestingly, the stories in The Return of Sherlock Holmes are set mainly in 1894-5. Holmes "died" in "The Final Problem" in 1891, so in the Holmes universe he had only been fake-dead for three years, not ten. However, Watson himself narrates these stories from the present, 1903-4, after Holmes had retired and had given Watson permission to publish their exploits.
https://www.shmoop.com/return-of-sherlock-holmes/
\\][//